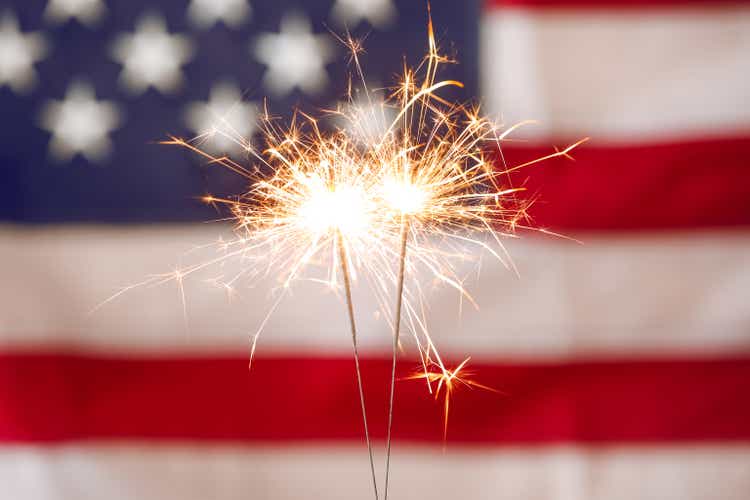 Traders are enjoying a long holiday weekend in the US, with stock markets – including the NYSE and NASDAQ – closed in observance of Independence Day. Futures linked to the Dow, S&P 500 and Nasdaq are active, however, with contracts declining around 0.7% early Monday following the worst first half of a year since 1970. The bond market and US commodities markets, including gold and oil futures, also won't be open Monday, though Bitcoin is largely unchanged at $19,085, with the crypto trade never taking a day off.
More volatility ahead? Earnings season, which kicks off on July 15, could present the next trading risk, though you never know when buy-the-dip fund managers and traders will step in and gain control of investing sentiment. "The current bear market has been entirely valuation-driven rather than the result of reduced earnings estimates," noted Goldman Sachs analyst David Kostin. "However, we expect profit consensus margin forecasts to fall which will lead to downward EPS revisions whether or not the economy falls into recession."
Heading into H2, many are also worried that central bank actions could push the economy into a downward spiral. The Atlanta Fed's GDPNow forecast for Q2 is now pegged at -2.1%, falling precipitously over the past two months. It was only four days ago that the GDP tracker predicted a negative print, falling from an estimate of 2.5% growth in mid-May, and flatlining by mid-June. Are we in Schrodinger's Recession?
Coming up on the economic front: Minutes from the Fed's June policy meeting will be published on Wednesday, with the market pricing in an 85% chance for another 75 bps rate hike at this month's FOMC meeting. The release will be followed by the closely-watched jobs report on Friday, with nonfarm-payrolls expected to slow to 270K in June. Investors are already on the edge following last week's warning from Facebook-parent Meta, which slashed engineering hiring to prepare for "one of the worst downturns that we've seen in recent history."